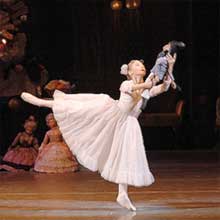 When I hear the sounds of the Nutcracker Ballet, it puts me in a holiday mood. I suppose most little girls, dream of flitting and twirling around on the stage with a puffy pink tutu on, I did when I was young. Mom even took us to ballet lessons and I have a worn out little pink tutu, with silver sparkles on it, in my cedar chest from way back when. I took my daughter to dancing lessons when she was about 4 years old and she, in turn, has taken her daughter to dancing lessons as well.
In college I took a P.E. class of ballet my very first semester, but by then I had lost all my grace and talent (if I ever had any), even though I was a petite 100 lbs. I must have been a clodhopper because I got a measly C in that class. So ended my dancing dreams (not really)...... I was looking forward to becoming a scientist, anyway!
I've been a flute player for many years and I fondly remember playing "Dance of the Reed Flutes" from the ballet in school talent shows. That is my earliest memory of Nutcracker things. In high school, we had an extraordinary instrumental music teacher who had trained at the Julliard music school in NYC. One Christmas he took the students on a field trip to Carnegie Hall to see the Nutcracker Ballet. I was smitten! We rode a school bus there and had seats in the nose bleed balcony section, but what a marvelous life experience it was! It was incredible and wonderful. Many thanks to Robert Leive, my music teacher who was really dedicated to his students and helped us polish our talents; for four wonderful years full of concert band, marching band, jazz band, pit orchestra for plays, and helping me grow as a musician and a person.
I have had the joy of taking my spouse and children, daughter-in-law, and once even my granddaughter to the ballet here where I live now. One year we were so close to the stage it was very exciting to experience the ballet up close and personal. I love going but it seems if we go every year without fail, it get to be old hat, and some of the wonder is gone from the experience, so we go every few years. That way, next time we attend it will be a freshly anticipated experience and will be that much more magical!
Here I've shared two excerpts... "Dance of the Reed Flutes", with Clara as part of the dance and "Mother Buffoon and her clown children" (sometimes known as Mother Ginger).
Merry Christmas!