Home grown carrots
Spring time is here and my thoughts are turning to gardening. I've had backyard gardens for years and enjoy growing and eating our own organically produced food. I'm not a good weeder though, and by the end of the summer you have to use a machete to slash a path through the weeds or the over-zealously growing tomato vines to get to the produce. But the veggies the garden grows are still wonderful, even if a picture of my garden would never make it into Martha Stewart's hall of fame.
We always grow tomatoes and home-can them every year. We made lots of spaghetti sauce, chili, soups, and salsa with our home-grown, home-bottled, tomatoes. Generally we also grow some kind of peppers, carrots, lettuce, broccoli, onions, and we also try peas, beets, corn, green beans, radishes, different types of summer and winter squash, cantaloupe, pumpkins, etc. when the urge hits us. At the hospital where I work, the cafeteria serves these golden carrots that are supposed to be extra nutritional. I have searched high and low for such a golden carrot but have come up empty. Two years ago I found a carrot variety seed pack that was supposed to contain different colors of carrots; I thought maybe it would contain my elusive gold variety. We grew a few differing colors but, all in all, I was disappointed with the dismal production of carrots. We got mostly nice carroty foliage, lots and lots of it, with just a few purple and orange carrots, and one white carrot. I don't think I will be trying that mixture of carrots again any time soon.
Colors of carrots
Last year I used some seeds I just had hanging around in the basement. We got scads of huge fat carrots, but many were woody inside because they were so fat. So this year I want to try growing some different types of carrots to see what will work better for our garden. I do freeze many of the carrots we grow for later use; I blanch them, ice them, drain them well and put them in zip-locking freezer baggies portioned out for what we will use. I don't have a fancy seal-a meal thing, I just suck out the extra air with a simple drinking straw and double bag them. They keep just fine for a few years in the freezer.
Blanching carrots
Freezing carrots
Baby carrot plants
General carrot growing guidelines…..use loamy soil mixed and aerated well. Clods and rocks in the seed bed will lead to misshapen carrots. Carrots like well composted soil. Too much nitrogen from fresh manure will lead to splits, cracks and forked carrots that will grow too slowly. Vermicompost or worm castings are great for the carrot bed. Carrot seeds do take a long time to germinate, so even watering when tiny is necessary. Many garden sources suggest planting them with radishes which are fast growing and will be already harvested when the carrots are ready. Thin the carrot bed to get well shaped roots and if the shoulders of the carrots get exposed while they are growing they could turn green so keep them covered with potting soil while growing.
Carrots are a good source or vitamin A. They can be used raw or in a variety of recipes from Sunday chicken or pot roast dinners to salads, side dishes, stir-fry, soups, to grated into breads and cakes. Kids generally like the little sweet baby carrots that are easily found in stores today, too. Why not grow your own?
We like to eat them raw, have them with Sunday roast dinners, and enjoy in soups and steamed with a honey/ginger, or orange juice glaze. I am a carrot cake junkie especially if the recipe includes nuts and cream-cheese frosting. Included below is a primer of different carrot types from Mother Earth News. Also included are some recipes I picked up in my travels around the web.
Did you know Queen Anne's Lace (a weed) is a carrot relative?
Nantes type carrot
Type of Carrot: Nantes
55 to 70 days (spring)
6- to 75 days (fall)
Easy and widely adapted; straight, cylindrical roots 5 to 7 inches long; sweet flavor and crisp texture; limited storage potential.
Grow in loose, sandy soil or in raised beds enriched with plenty of organic matter, but no fresh manure.
Type: Chantenay
55 to 70 days (spring)
70 to 110 days (fall)
Conical roots with broad shoulders and rounded tips; rich, sweet flavor and good storage potential.
Excellent type to grow from summer to fall, and not as picky about soil as other types. Usually sizes up well in clay soils with high organic matter content.
Chantenay type carrot, more triangular, fatter
Baby carrots
Type: Miniature/Baby
50 to 60 days (spring)
60 to 70 days (fall)
Round, cylindrical or tapered roots less than 5 inches long; crisp texture and frequently quite sweet when mature; limited storage potential. Grows in any fertile soil that drains well.
Type: Imperator
55 to 100 day (spring)
80 to 110 days (fall)
Long, tapered roots with stocky shoulders and strong tops; slightly fibrous texture. Stores well. Roots size up best in deep, sandy loam. When pleased with their site, roots can become quite large.
Imperator Carrots
Type: Danvers
70 to 80 days (spring)
80 to 110 days (fall)
Thick-rooted cylindrical shape, often with yellowish core; widely used in processing, good for juicing. Stores well. Grow in raised beds or in deep, sandy loam. Good main crop type for cool climates.
'Danvers' 'Healthmaster' 'Danvers Half Long'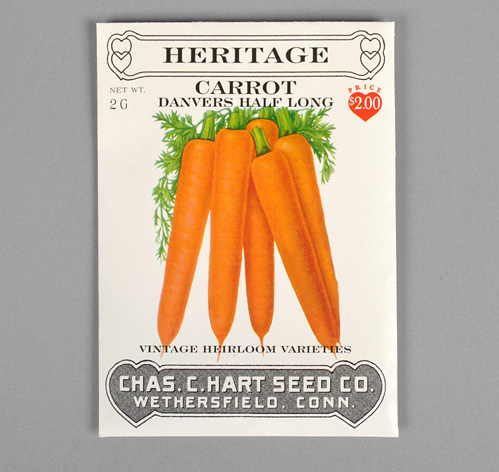 Danvers Carrot
Carrot Apple Nut Muffins Recipe
Mother Earth News October/November 2010
By Roger Doiron
Fall means an abundance of bright orange carrots, sweet apples and crunchy nuts. You may not think to combine them in a sunny-looking, morning muffin, but this recipe does just that — and with delicious results.
Ingredients:
1/2 cup walnuts or pecans, chopped
2 cups raw carrots (about 2 or 3 carrots)
1 large apple
2 cups all-purpose flour
1 cup sugar (brown, white or a combination)
3/4 tsp baking soda
11⁄2 tsp baking powder
1/2 tsp salt
1/2 tsp ground cinnamon
3 large eggs
3/4 cup vegetable oil
1/2 tsp fresh ginger, grated
1 tsp pure vanilla extract
Instructions:
Preheat oven to 350 degrees F. Grease muffin cups or insert liners, if using. Peel and finely grate the carrots and apple, setting aside for later.
In a large bowl, whisk together the flour, sugar, baking soda, baking powder, salt and ground cinnamon. Stir in the nuts. Set aside.
In a separate bowl, whisk together the eggs, oil, ginger and vanilla extract. Fold the wet ingredients and the grated carrot and apple into the flour mixture, stirring just until moistened. Divide the batter evenly between the prepared muffin cups and bake for 20 to 25 minutes or until a toothpick inserted in the center comes out clean. Remove from oven and let cool on a wire rack.
Makes 9 standard-size muffins or 12 small ones.
Honey Glazed Carrots
Recipe courtesy Sunny Anderson (Food Network)
Ingredients
Salt
1 pound baby carrots
2 tablespoons butter
2 tablespoons honey
1 tablespoon lemon juice
Freshly ground black pepper
1/4 cup chopped flat-leaf parsley
Directions
Honey Glazed Carrots
In a medium saucepan, bring water to a boil. Add salt and then carrots and cook until tender, 5 to 6 minutes. Drain the carrots and add back to pan with butter, honey and lemon juice. Cook until a glaze coats the carrots, 5 minutes. Season with salt and pepper and garnish with parsley.
Oh Yeah Baby Glazed
Carrots (
Recipe courtesy Emeril, Food Network)
Ingredients
1 (1-pound) bag baby carrots
3 tablespoons unsalted butter
1/4 cup water
1/4 cup maple syrup
2 tablespoons orange juice
1/2 teaspoon ground cinnamon
1/4 teaspoon ground allspice
1/4 teaspoon salt
Directions
Place all the ingredients in a medium, heavy saucepan.
Bring to a boil over medium-high heat, stirring occasionally, until the carrots are tender and the sauce becomes a shiny glaze, about 15 minutes.
Using an oven mitt or pot holder, remove from the heat and serve.
Carrot Salad
Recipe courtesy Bobby Flay (Food Network)
Ingredients
6 large carrots, peeled
1/4 cup fresh lemon juice
2 cloves garlic, finely chopped
2 teaspoons ground cumin
1/2 teaspoon cayenne pepper
1 teaspoon salt, plus more for water
1/4 cup olive oil
1/4 cup finely chopped flat-leaf parsley
Directions
Bring a large pot of salted water to a boil. Add the whole carrots (cut them in half if they don't fit in the pot) and cook until just cooked through, about 8 to 10 minutes. Drain and cut carrots into 1/2-inch thick slices.
Whisk together the lemon juice, garlic, cumin, cayenne, and salt in a large bowl. Slowly drizzle in the olive oil until emulsified and stir in the parsley. Add the cooked carrots and toss to combine. Serve cold or at room temperature.
Carrot Raisin Salad (Taste of Home)
This colorful traditional salad is one of my mother-in-law's favorites. It's fun to eat because of its crunchy texture, and the raisins give a slightly sweet flavor. Plus, it's easy to prepare. —Denise Baumert, Dalhart, Texas 8 ServingsPrep/Total Time: 10 min.
Ingredients
4 cups shredded carrots (about 4 large)
3/4 to 1-1/2 cups raisins
1/4 cup mayonnaise
2 tablespoons sugar
2 to 3 tablespoons 2% milk
Directions
Place carrots and raisins in a large bowl.
In a small bowl, combine the mayonnaise, sugar and enough milk to achieve dressing consistency.
Pour over carrot mixture; toss to coat.
Yield: 8 servings.
Nutrition Facts: One serving (prepared with skim milk and 1 cup raisins) equals 1 fruit, 1 vegetables, 1/2 fat; also, 110 calories, 80 mg sodium, 2 mg cholesterol, 24 gm carbohydrate, 1 gm protein, 2 gm fat.
© Taste of Home 2012