Book Review
The Children of Henry the VIII by John Guy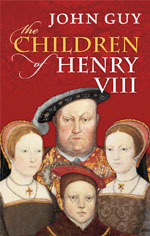 I was given and ARC copy as a member of LibraryThings' Early Reviewer group. I am a history fan and have taken an interest in the history of English monarchs. This book did not disappoint. I really enjoyed learning about the childhoods of Henry's children. The book presents things in chronological order and I found that a good way to keep everything straight. Towards the end of the book the author delves deeper into Elizabeth's life and you can get a bit mixed up with all the different figures presented to you. I read the book quite fast as it was interesting.
In my opinion, only the end got a bit dry because there was a lot of information about the political and religious intrigue surrounding Elizabeth's reign and less about Elizabeth herself. The book presents the most information about Elizabeth. I would have liked to learn more about Fitzroy, and Mary, his real legitimate heir. I really felt for Katherine of Aragon and Mary because Henry treated them wretchedly, and poor Mary really had a bitter life because of it. The author presents a theory about why Henry's wives may have miscarried so much, but does not really tell you about the theory, or why this theory is postulated. (Henry is thought to be positive for the Kell red blood cell antigen, which is only present in about 10% of the population and can cause miscarriages and hemolytic disease, leading to infant death. This is similar to what can happen when a mother is Rh negative and the infant is Rh positive.) I had to do some research of my own to get the full story about this theory. The Kell theory was just thrown out there without explanation or evidence, just restated from another source.
Overall this still was an interesting and informative read. If you like the subject but think most history books are too dry and wordy, this book is for you.
Doomed Queens by Kris Waldherr
I read this book after reading a book about the children of Henry VIII, because I was intrigued about the subject of unlucky queens, and Henry's wives were certainly very unlucky to have been married to him. I enjoy history books but don't enjoy slogging through pages and pages of dry facts. This book was anything but dry facts! The author tells brief but informative stories about women (Queens) throughout history from Cleopatra to Lady Diana and explains their misfortunes to the reader in a unique way laced with witty humor. This book was a wild ride through history from the doomed queen point of view. It also served as a jumping off point for me to desire to do more reading about the women in this book. Highly interesting and very entertaining. Kudos to the author for the content and the nicely done artwork and layout of the book. The subject matter in this book can be a very depressing and the author's humor lightened it up while informing the reader.
Teas for Life by Diane Kidman-
4 stars out of five (nice pictures of the herbs or a searchable table of contents for the e-book would earn it five stars.) An enjoyable guide for the tea lover or aspiring herbalist, after discussing the uses of teas and types of infusions one can make with them, the author also gives tips for buying them. Then there is an alphabetical catalogue of herbs laid out in a 6 part format which is no nonsense and easy to follow. There's really good information here and it will be a guide I refer to often.

The author explains how to use the herbs in an infusion (or common tea), a cold infusion, (where the herb steeps overnight in your cup), or in a decoction, (strong or weak), by boiling the herb or plant part in water for a time and then using after it is strained. The 6 part format is a very good quick guide that mentions:
1. Use of each particular herb
2. Parts of the herb to use
3. The constituents or chemical compounds that make the herb unique
4. The dose or amount to drink or rub on an affected area as a topical
5. The Author's notes about a particular herb
6. Any warnings about each herb
Many of these herbs are easy for you to grow in a container or in your own back yard. I recommend this book for anyone interested in the subject.
Alchemilla vulgaris
- Lady's mantle- Good for all kinds of 'women's ailments. Use the budding plant, 2 tsp./8oz water as a tea
American Saffron- Carthamus tinctorius-for eruptive skin disorders, diuretic, use the flowers
Sarsaparilla-Aralia nudicaulis-to combat excess lipids, contains steroid, lung issues, use root or whole plant
Arbor vitae-Thuja occidentalis- topical fungal relief, giardia
Black Cohosh- Cimicifuga racemosa- balance hormones use for Estrogen Replacement Therapy, use roots, rhizome, foliage
Burdock-Arctium minus- use root as cold infusion, find in Asian markets
Calendula –Calendula officinalis- skin topical, use flowers or can make tea, fresh flowers are very orange; old if yellow, do not use during pregnancy
Catmint- Nepeta cataria- use flowering herb for indigestion, insomnia, for skin irritation, do not use during pregnancy
Alchemilla vulgaris- Lady's Mantle
Aralia nudicaulis- Sarsaparilla








Stories of New Jersey by Frank Richard Stockton (1896)
I grew up in New Jersey, so when I saw this interesting little book of tales about my home state I was interested in reading it. History buffs will enjoy it. I enjoyed it. There is quite a lot of history in these pages from before NJ was settled by Europeans to about the mid-1800's. I learned things I never learned in school from this book. Several of the stories are about the history of New Jersey as it relates to the Revolutionary War. I found the author's writing style enjoyable even though it was written over 100 years ago. My favorite story was probably the one about George Washington's Spy, the John Honeyman story. I was intrigued by it and then did a little additional research about it and found out that there is a bit of a dispute as to the truthfulness of the tale. In spite of those doubts, it is still a great tale! This book is an historical gem and in the public domain so the price was right (0.00) for my Kindle.
Table of Contents:
The Story of the Discovery of Scheyichbi: or, The Aborigines of New Jersey, (Period, prior to 1600.)
The Story of a Peacemaker, An Indian Woman's Friendly Act, (Period, 1632.)
The Winning of the Prize: or; The English Ownership of New Jersey, (Period, 1664.)
How Scheyichbi really became New Jersey, (Period, 1609-1758.)
Fins, Rattles, and Wings; or The Wild Animals of Early Days.
The Story of a Girl and a Hogshead, A Story of the Swedish Settlers, (Period, prior to 1655.
The Story of Penelope Stout, (Period prior to1669.)
The Schoolmaster and the Doctor, (Period, from 1693.)
The Slaves of New Jersey, (Period, 1626-1860.)
A Jersey Tea Party; or, The Burning of the Tea at Cohansey. (Period 1774.)
The Story of a Spy. (Period 1758-80.) John Honeyman.
A Man who Coveted Washington's Shoes; or, The Story of General Charles Lee. (Period, 1758-85.)
The Man in the "Auger Hole." From the Journal of Mrs. Margaret Hill Morris. (Period, 1776-82.)
The Story of Two Captains. Captain Huddy and Captain Asgill. (Period, 1781.)
The Story of Tempe Wick. (Period, 1780.)
The Story of Fort Nonsense. (Period, 1776-80.)
An American Lord. Lord Stirling of Basking Ridge. (Period, 1726-83.)
Molly Pitcher. (Period 1778.)
The Morristown Ghosts. A story of 1788
A
Jerseyman and His Royal Crown. Joseph Bonaparte at Bordentown. (Period, 1815-39.)
The Dey, the Bey, and some Jersey Sailors. The Barbary War. (Period, 1800-4.)
Sea Fights with a Nobler Foe. The War of 1812.
The Story of the Telegraph and the Steamboat. (Period, 1787-1838.)
New Jersey and the Land of Gold. The Conquest of California. (Period, 1816-66.)
A Heart in Sun and Shadow by Annie Bellet
The description of this book was intriguing to me and I enjoy reading a lot of fantasy and science fiction books so this sounded like something a little different that would hold my interest. I was not disappointed. From the prologue to the last page, this book held my interest. I received this book as part of the reviewer's program for LibraryThing.
The author drew me in and I was hard pressed to put it down because I was interested in the characters and the story line. A baby is born….she is coming backwards, after the difficult birth the child exhibits more signs that are bad omens, her mother dies right after the birth, she has green eyes and red hair, she is branded a changeling and her grieving father tells the midwife to get rid of the cursed child. Wrap this unusual birth up with the faerie, a set of identical twins, a setting of ancient Wales, magic, fey tricks and curses, folklore, a woman desperate to help the ones she loves, a bit of romance and you have the makings of a great tale. The setting was descriptive and believable, the characters nicely developed, and I 'felt' the story along with them as I was reading. Once started, I zoomed through the book in 3 days as I did not want to put it down. While much fantasy is aimed at young adults, this is a good one aimed at adults. A very enjoyable read, and I will definitely look forward to any sequels and check out other works by this talented author. Two thumbs up for A Heart in Sun and Shadow by Annie Bellet.
I also read a short story
Winter's Bite
by Annie Bellet and really loved it, so I will be adding more of her works to my to-be-read pile!!


The Art of Racing in the Rain by Garth Stein
I really loved this book. The allegories between life and car racing were clever observations about life that I would have never thought about had I never read this book. The story is told from Enzo the dog's point of view. It opens with him musing about life in his twilight hours. The reader is informed of an ancient belief, ascribed to by Enzo, that when he comes back in his next life he will come back as a human. He passionately loves his human family, especially Denny, and admires the human ability to speak and use hands instead of paws. He looks forward to being a human so he can talk to and find Denny in the future. Enzo the dog has many human characteristics even though he does not realize it.
I fell in love with Enzo from the first page of the book and started getting sad because as the story unfolded I realized that by the end of the book Enzo would die. I had to put the book away for a few weeks until I could face that fact again. My desire to hear his story finally won out.
Being a dog lover probably helped me enjoy this book, but one thing that I really liked about it was being able to feel a range of emotions as I read and making a real connection with the characters. I experienced the story along with the characters, this is one of the things I love about reading and it added to my enjoyment of the book.
"Your car goes where your eyes go"……..such is life, set your sights on your goals and go for it!! (5 stars)
Keep Out by Nick Redfern
This author is known for books in a variety of paranormal, alien, government conspiracy, and cryptozoology type subjects. Whether you believe in these subjects is not really relevant because these books are highly entertaining, regardless of your opinion on the matter. I became aware of this book from a podcast I listen too, Mysterious Universe. I looked it up on my Kindle and downloaded it because I am interested in the idea of underground bases for fictional and non-fictional purposes. It definitely was interesting but one disappointment was that the information presented was quoted something like this…a friend of a friend related this story…..in other words, a lot of heresay, and not really hard facts. While I do not doubt the government wants to keep people out of lots of places, and I know places such as Area 51, Hangar 18, and other secret government places really exist, much of the information seemed antedotal. What did I really expect? Maybe a little more factual information then I got, but the book was interesting none the less. Would I read more books by this author? Maybe. The writing was opinionated, and something like this would have never passed a non-bias test but, I think it goes along with the territory of the subject matter covered in the book. 3.5 stars
The Girl in the Glass by Jeffrey Ford
I am having a bit of trouble sleeping lately because of health issues. I always have a few books on my nightstand, so reading keeps me from going crazy in the middle of an uncomfortable night.
This is my latest pick from an author I recently discovered. Set in the time of the Great Depression in New York/Long Island, this story weaves an interesting web about a con man named Schell who specializes in staging fantastic séances for his wealthy clients. We learn about his adopted son, Diego- the 'swami', his ever faithful go-to-guy; Antony Cleopatra, the 'bugatorium' where Schell raises butterflies, and a host of other oddball and interesting characters as they make their way in the world. Everything from carnies, kidnappers, booze running during prohibition, and the KKK in Long Island is included in this tale.
Told from the point of view of Diego; Schell decides to do an honest job after he reportedly sees the ghost of a kidnapped young girl in the glass of a window while performing a bogus séance for a rich client. I thought the main focus of the story would be the girl but it was not. So the book was a bit different than what I originally expected. The story is more about Diego's life and the influences on it that shape him. None the less, it was an interesting tale with unexpected plot twists, and an ending I could predict but still liked anyway.
Frankenstein by Mary Shelly
I've wanted to read Frankenstein for a while now. Finally I am done. I was going along quickly until I came to the part, midway, about the monster narrating his experiences and it became so depressing I had to put it away for a while. I picked it up on and off until I was too curious to find out what would happen then I raced through the rest.
The story is told as a narrative by Victor Frankenstein to a ship captain who rescues him as he is pursuing the monster, with all vengeance, to the ends of the earth. At the end of the story it wraps up with Victor done telling his tale, he tragically dies and the captain wonders in awe about the truth of the tale he has heard. Then something very strange happens on his ship…at the ending you are right back where the tale has started.
This was a very descriptive tale about Victor Frankenstein's quest to create a being when he was away studying at school. He becomes fully engrossed in his project and devotes all his energy to it. He gives life to his creature and then cannot abide the sight of it after it comes to life, even after he has sacrificed his own health and many hours and days to create it. I enjoyed the descriptive language of older literature in this tale and became engrossed in the tale as I read my way through it.
This is also a tragic tale of the monster becoming self aware, search for acceptance and love, his revenge for being scorned and his desire to love and be loved by another. It was so sad at certain points I found myself getting depressed. I was also shocked at how the monster reacted when he did not get his way and felt the agony and angst of Victor as his life falls apart because of what he has done and the decisions he makes.
I would love to have some discussions about this tale. I still cannot understand why Victor hates his creation so much or why he did not just give him a companion and let the monster have a bit of love and acceptance. It may have spared some lives. Victor's life is ruined so thoroughly by his creation it is hard for me to imagine the amount of disdain he felt for it and his stubbornness in refusing to give him a companion even as those he loves are stuffed out as the monster's hate grows. First rate horror and tragedy; there is a reason this story has stood the test of time so well.
The Drowned Life by Jeffrey Ford
This is a collection of 16 stories by the author. The settings range from bizarre to everyday life. One of the more well-known tales is 'The Night Whiskey', it tells of a town where a strange berry concoction is given to a handful of citizens once every year and the unique experiences they have under the influence of this "death berry". There is much imagery intertwined in the stories and they would make for good conversation pieces at a book club or in a literature class. Sometimes you wonder if the author was drinking a strange berry concoction while he was writing them!
I loved some of these stories, some of them were just stories, that's all, and some of them were just plain disturbing, like the first story (and books namesake, The Drowned Life, disturbing). I'll throw in a few quotes from a few of the stories so you can get a feel for some of them.
"He bit with his molars but found it had nothing to do with dirt. It was mushy and tasted terrible more like a sodden meatball of decay then a memory of the sun" (from The Drowned Life).
"Eventually the mother of the village came to him and asked if he would take the challenge of commitment….he was lowered by a long rope off the side of the plateau into the depths of the sea of red grass" (from The Dismantled Invention of Fate).
"He did it in sold-out concert halls and stadiums so large that people in the back rows and top bleachers looked on with binoculars. He did it before royalty and heads of state" (from The Way he does it).
"Tomes of wonders, testaments of melancholic horrors wrought by the gale have been recorded….." (from The Dreaming Wind).
Some of my favorites in this collection were 'The Way He Does It"- just fantastic, the author has a gift for hyping you up for the something, although you never actually find out what it is! Another of my favorites was 'The Scribble Mind'; it took me on my own mind journey. I also really liked 'The Dreaming Wind'.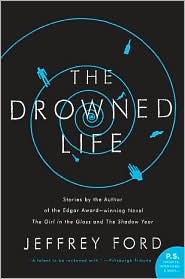 If you don't like swearing you may be put off a bit by Mr. Ford, because all of his works seem to have a bit of swearing in them. I am not a big fan of this but I like the author well enough to still read his work anyway.
The Halloween Tree by Ray Bradbury
A co-worker of mine told me that he reads this every year to get ready for Halloween. I decided to read it this year, too, to get me into the spirit of the season. This book is suitable for family reading or reading out loud in a classroom. This a delightful tale about a group of neighborhood friends who go out trick or treating and come upon a spooky house in the neighborhood occupied by a mysterious Mr. Moundshroud. He has an exceptional tree in his yard; it is huge and filled with hundreds of jack-o-lanterns. As they search for their missing friend Pipkin, Moundshroud leads the group on an amazing journey through time and places in the world and they learn about customs relating to the Halloween holiday. They travel to ancient Egypt, to Britain with the Druids, to Rome, to Paris, and to Mexico where they experience a celebration of the Day of the Dead. This book is eerie, informative, and enjoyable, at the same time, a great way to get into the Halloween spirit.
Neverwhere by Neil Gaiman
I listened to this on CD. Gaiman is a very good narrator for his own tales. This story is about Richard Mayhew, who leads a rather unspectacular life in London. One evening he and his fiancé are going out and they see a young injured girl collapsed on the sidewalk. Richard cannot walk by without offering some assistance to the girl. He later finds out her name is Door, which is a very symbolic name, and she is a person from "London-below". The decision he made right then and there changes his whole life and he winds up in the unusual world of London-below. It exists underneath regular London, has the same landmarks, but life is very different there. He goes on a quest of sorts in London-below and the tale continues. He discovers himself along the way, has scrapes with death and all sorts of odd folk there such as the rat-speakers, Hunter, The Count, the black friars, and the angel Islington while trying to attain his ultimate goal of going back to his old life in London above. A very unusual story; with elements of the fantastical, supernatural and horror, and a few plot twists thrown in. If you are a Gaiman fan you will probably like this. I noticed some similar elements from other works by him in this book, such as the villains-who are almost the same as those in The Graveyard Book (which I happened to like better). The story seemed to drag in the middle, but finally started picking up again and I liked how it ended, it was the end I was hoping for (no spoilers here). The thoughts about it that linger in my head are that this was a strange tale, but Gaiman has a gift for odd stuff, which is part of the appeal.
A Canticle for Leibowitz by Walter Miller Jr.
I wanted to read this book because it is supposed to be a "classic" of the Science Fiction genre. The story has its setting in a futuristic world where nuclear war has destroyed nearly everything and technology has been set back hundreds of years. The story follows a group of Monks who are preserving remnants of the scientific knowledge of mankind at their monastery until such a time when the world will be ready to make use of it again.
The story spans a few thousand years and follows what is happening with the
Monks. I particularly liked the beginning part with Brother Frances and it is humorous how he encounters a wandering pilgrim and happens upon a treasure trove of knowledge which seems to be from their beloved 'patron Saint' Lebowitz, the knowledge is really a shopping list and a drawing of a circuit board but these things are revered by the Monks as sacred artifacts over hundreds of years.
The middle of the story seemed to drag and I had to force myself to trudge through it. All the un-translated Latin phrases in the book were really distracting and I was not inclined to sit there while I was reading with a study guide by my side to translate them. I mostly skipped over them which probably made my experience with the book more confusing than enlightening. I just wanted to read the story, not learn Latin.
The last part of the book was more interesting and I read that part faster once the story seemed to be moving along again. When I finally finished the book, I sat there in shock. It seemed to end abruptly and the only thing I could think was "that was a really weird book". I still think it was a really weird book and a bit depressing too, and I am a Sci Fi fan. Too much politics maybe? No wonder the author was unhappy; he had seen the horrors of war (WWII) and had no hope for mankind to ever redeem themselves from their faults! That attitude permeates the book. I am afraid all the philosophical greatness that many have raved about in this book was mostly lost on me.
Now I can say I have read this 'classic', but it did remind me of being in high school literature class and slowly plowing through the likes of Moby Dick and Billy Budd. (3 out of 5 stars)
Diplomacy of Wolves and Vengeance of Dragons by Holly Lisle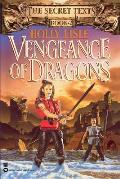 Diplomacy of Wolves is the first book in a trilogy about The Secret Texts. Vengeance of Dragons is book two. The main character is Kate, she is a member of a royal house and training to be a diplomat for her family. She is also a shape-shifter, or karnee, a fact she keeps secret from all but her immediate family members. The arch enemies of Kate's royal house are planning an attack on them and she finds out about it. The story continues on from there where backlash and chaos ensue from the royal houses warring with one another, both houses use magic and wizardry to aid their cause. Fearing Kate has lost her family in the attacks she discovers information about an ancient artifact, The Mirror of Souls, that she believes will help bring her family back from the ravages of war and she sets off in search of it. The first book ends when she finally discovers the artifact and book two picks up where book one leaves off. Kate journeys back to her homeland with plans to use the mirror of souls and bring her family back, but she discovers some unpleasant facts about the artifact along the way. The mortal enemies of Kate's family seek to steal the artifact, and neither side realizes there is a third party involved with the artifact that is ancient, powerful and dangerous to all.
The reader is introduced to a whole new world; the world building by the author is detailed and interesting, even a bit complicated at times. There is good action in the story and a cliff-hanger ending spurring the reader on to the next book in the series (surprise!). I have read other books by this author, enjoyed them, and I am also enjoying this series. One thing that is keeping me interested is the fact that I cannot predict what I think will happen next. There is good romantic tension between main characters built into the story, but some of the story events are a bit gruesome- like another shape-shifter characters abuse of others, an instance of infanticide, and the use of blood magic, which might be offensive to some. (4 out of 5 stars for both these books by Holly Lisle)
Enchantment by Orson Scott Card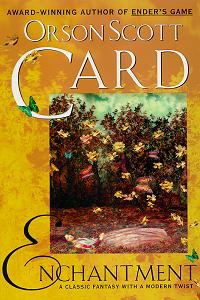 This is a fantasy tale mixing themes from Russian folklore and the traditional sleeping beauty story. The main character is Ivan Smetski and the story starts with his childhood in the Ukraine. One day his parents tell him they are Orthodox Jews and are going to immigrate to Israel. Instead of going to Irsael they move to the United States where Ivan and his father, who is a professor, become experts in ancient Slavonic. Ivan remembers spending time at his Uncle Marek's farm as a child so when he does research for his master's project on Russian folklore he returns to his homeland and to an enchanted grove near his uncles farm that he also visited when he was a child.
In the grove he discovers a sleeping princess and with a kiss she awakens. Ivan must battle an evil bear who guards the beauty to escape with her to her homeland. The princess is Katerina, she was placed in this state of suspended animation by the evil sorcery of the Russian witch Baba-Yaga. Ivan travels back in time with Katerina to her village and is now supposed to marry her. He is anything but a strong strapping warrior, which is what the townsfolk expect, and things get more and more complicated for him as the story continues on. Baba Yaga causes trouble for them throughout the story and much of if seemed cliche, but that is the whole jist of the story in the first place; a re-telling of folklore. Ivan began to bug me after a while as the story continued on because he was such a wimp and only made thing harder for himself by doing the things he did. The story has a nice happy ending which I will admit I like in a book, but the characters went from despising each other to being a perfect picture of love. Yes corny and a little too neat to actually keep me interested. I put the book away for a few weeks and read something else, then went back to it because I knew I was really close to finishing and did not want to waste all the previous time I spent reading it. (3 out of 5 stars for Enchantment)
Stiff by Mary Roach
"The curious lives of human cadavers." This is an interesting and unusual topic for a book. Ever since I first saw a copy of this book in the health sciences bookstore at the university where I work, I have wanted to read it. I am in the health profession and have taken anatomy classes where we worked with cadavers and various human and animal parts. With my job I am also involved in organ donation surgery and so this topic fit perfectly into the category of things I am interested in and have questions about.
The author has an engaging style, which is needed for such a topic of how bodies are studied as they decompose or are cut up and used to experiment for such things as 'which combat boots are best for the military so loss of limbs will be minimized when walking in a mine field', or other such inexplicable research such as 'how much can a human stomach hold before it bursts'.
The author is insatiably curious about all sorts of odd ball things that have to do with bodies after you die so she takes the reader along on her journey as she discovers answers to such questions as- did a Chinese restaurant really make dumplings out of the human gluteus maximus…she went to the place in China to find out. This book is not for the squeamish but it is not glorifying the gross either, it is just relaying information. Now I want to have an 'ecological funeral' like the author talks about near the end of the book. Sometimes gross, always entertaining, and intriguing, I really enjoyed this book.
The Portrait of Mrs. Charbuque by Jeffrey Ford
Recently I listened to a fantasy podcast called PodCastle. The story was called The Annals of Elin-Ok by Jeffrey Ford. I enjoyed that story so much that it put me on a quest to find other works by the author; consequently I added 5 books by the author to my reading list. After finishing this book, I actually felt lonely because I missed my interaction with the characters! This is certainly a page turning thriller as well as an unusual story. The author is definitely a wordsmith, painting vivid descriptive pictures with his writing.
Piambo is an artist who is feeling he has missed his creative calling because he only paints portraits. He longs to be more creative but knows that the rich patrons he paints portraits for keep him living his high society lifestyle. He is approached by a stranger and asked to paint a portrait of the stranger's employer, he will be wildly rich if he does this commission but the one catch is that he cannot see his subject. He can only talk to her as she sits behind a screen and tells him stories about her life.
Piambo is intrigued by the proposition and lured by the wealth he will have after he finishes the portrait. Mrs. Charbuque, the lady he is to paint without ever seeing, tells Piambo odd stories about her life every day at their appointed meeting time, all the while sitting behind the screen. The setting is turn of the century NYC. You feel like you are really there. All kinds of odd things begin happening around the city, and Piambo's life is threatened as he struggles to fulfill his commission.
Just the premise of an artist painting a portrait of a subject he never sees was intriguing to me so that is one of the reasons I chose this work by the author. While I was reading it, I could not wait to sit down and read more to find out what unusual story Mrs. Charbuque would tell, or what odd thing would happen to Piambo next. I can't wait to read the next book by the talented Mr. Ford.
Fablehaven by Brandon Mull
I picked up this one after trying to read some other books because I knew it would be "safe". I needed a break from sex scenes every other page that had nothing to do with the story mucking up the pages or from sex used in the book to show how evil the bad character was ad nausea, distracting from what could have otherwise been an interesting story. This one is classified as a young adult fantasy book but is highly entertaining and unique enough for adults to read and enjoy as well. This would be great to read as a family, or in a classroom. I am a great fan of reading aloud.
Seth and Kendra go to visit their grandparents, they do not know them very well and they live in another state. They stay with them while their parents go on a cruise and learn some interesting information about their grandparents during their visit. They bunk in a special room in the attic of the house, where they have a hen for a pet and slowly uncover clues to their unique surroundings. Welcome to Fablehaven…a preserve for all kinds of mythical and magical creatures both good and evil. I really want to visit so I can see the faeries, too! We meet Hugh, the golem, the witch Muriel and her mysterious rope of knots, and the silly satyrs who love watching a battery powered television. I whipped right through this one; it was an easy and enjoyable read and just what I needed after picking up a few misses. The author has done a respectable job painting a scene where you can tag along with Seth and Kendra on their adventures. Being the mischievous boy that Seth is, he sometimes has a hard time obeying the rules and this gets them into a lot of trouble as the story progresses. I actually got annoyed at Seth for being such a jerk sometimes. Kendra winds up saving the day and their adventures continue in the next book; Fablehaven- Rise of the Evening Star.
Because of the contemporary setting and writing style, young adults will be able to identify with the characters and it is a series that should keep their interest. It also has a strong female lead character, which I love in a book.